Pixiu represents Wealth and Luck.

It's a wonderful way to draw positive energies, wealth, success, health, and good luck into your life.

It's an excellent gift for anniversaries, graduations, birthdays. 

The bracelet is to give both are fine for personal use or to buy as a gift.
福, meaning "fortune" or "good luck" is represented both as a Chinese ideograph and, at times, pictorially, in one of its homophonous forms. It is often found on a figurine of the male god of the same name, one of the trio of "star gods" Fú, Lù, Shòu.
Also known as Volcanic Glass, Obsidian is said to help you find your inner strength and channel your intuition. A powerful healing crystal that looks to ward off negative energy and strengthen your root Chakra.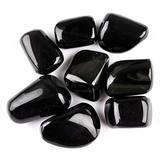 ABOUT OBSIDIAN:
Obsidian is a natural, volcanic glass. It is a powerful crystal for protection, helping to clear the buildup of psychic smog within your aura. A bodyguard to your soul, the Obsidian stone also protects you from shadow traits -- fear, anxiety, addiction, and anger by acting as a mirror to your inner self. Black Obsidian also resonates with the root chakra as it aids with grounding and connecting to the Earth.

Get in touch with buried issues before they explode
Clear old energy/past lovers from the womb space
Pi Xiu is also known as Pi Yao. This is a powerful Chinese talisman to bring riches into the home or workplace. 

Perhaps even more important is the notion that this creature will not permit wealth to leave the home or workplace.

Pi Xiu is especially popular among business people, investors and gamblers in Asia. It is regarded as a dominant attractor of money.

One of the popular ways to retain a Pixiu is to wear it on a bracelet.
Which hand should the bracelet be worn on?

Wear the bracelet on your dominant hand, the hand that you use to write. 


Where should I place it when I am not wearing it?
Main Function: Attract Wealth, Abundance, Ward Off Evil Spirit, Bring Good Luck
Material: Natural Obsidian Stone